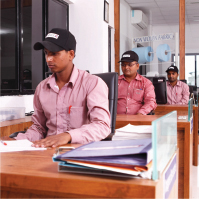 Devoted to Triumph
We believe in prospering with our customers' success. That way we will continue to grow in our business and share the gains with the stakeholders: our customers, suppliers, employees and community.
We provide best value to our customers with technical innovation, business process optimization, management model integration, and advantages of low cost operations.
'Rhyfeel' has become a qualified supplier to many well-known companies using cast PE films in their products. We also widely export our products overseas.
We will always be there with our services before sale, at the time of sale and after-sales.
Our services begin with product delivery. We focus on service through the whole process.
With continuous product and process improvement, we are able to provide clients with value-added services.
We always look for cost improvement opportunities, industry information and technical discussion with customers and develop new products and compile integrated improving projects.